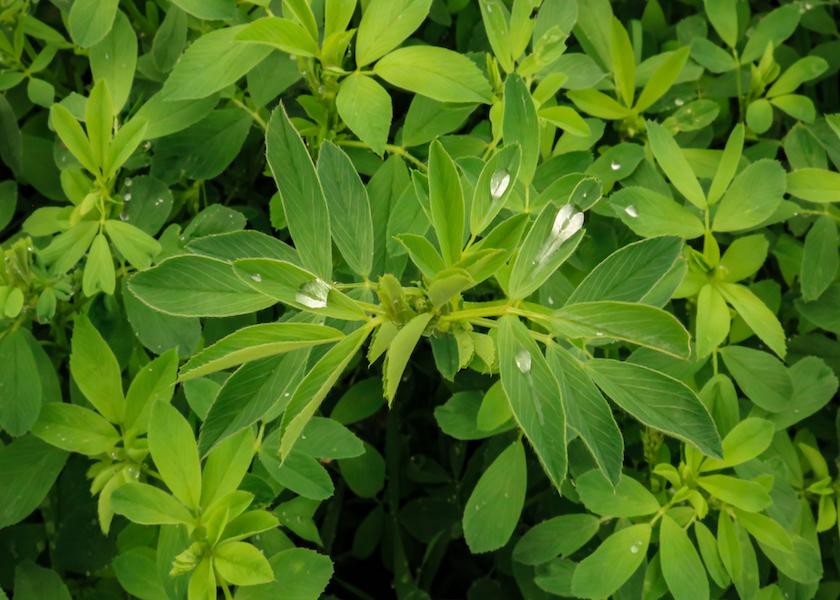 By DANIEL OLSON February 18, 2021, and DAIRY HERD MANAGEMENT
The benefits of diverse plant species are well documented — yet sometimes diverse mixes can be difficult to manage due to differences in palatability and maturity dates. That is especially true in diverse perennial stands.
Which leads me to this question: What if we could get some of the same synergistic benefits we see with diverse species mixes without the accompanying challenges?
I have been intrigued by the possibilities of diverse monocultures — combining different varieties of the same species to accomplish some of the same soil health and productivity benefits as diverse species mixes.
I've spent a lot of time over that past few years researching the phenomenon, and the results are very exciting. I have started using these mixes on our farms as well as clients' farms.
The Research …
My first experience with such results was by chance in an alfalfa test plot planted seven years ago. The plot contained nine different varieties of alfalfa. After I finished planting, I mixed all the remaining seed together and planted another plot at the same seeding rate.
This plot significantly outyielded the others, which really spiked my interest in trying to understand why it worked and to see which varieties would provide the best synergistic responses.
I started by planting two variety grids, with one set of plots running east and west at a half rate, and another set across them going north and south. The result is a grid with hundreds of two-way mixes. The outside borders of the plots are monocultures, thus allowing for yield comparisons between monocultures and mixes.
For instance, if row F is variety #2 and row 16 is variety #6, then block F16 is half #2 and half #6. We add the yields of blocks F-1 and 16-1, divide by two and compare it to the yield of block F16.
We have done two of these plots the past five years, working with ladino clover, red clover, alfalfa and several cool-season grasses and annuals. The diverse monoculture often outyields the true monoculture. And sometimes the results are amazing.
Some mixes are consistently providing 15% yield increases. That might not seem like a lot, but it's a huge deal when you consider most breeding programs expect a 2% rate of improvement per generation.
So just by just figuring out which varieties complement each other, we can move productivity ahead by 15 or 20 years — immediately.
The Results…
Why is this happening? With different varieties providing layering both above and below ground we have been able to maximize root development and photosynthesis. While a single variety might dominate in specific areas in fields with variable soils, using different varieties boosts yields in those areas that would struggle with a true monoculture.
We have discovered the key to getting a synergistic response within species is to look for as much diversity as possible. For instance, combining a branch-root alfalfa and a tap root variety is magic. Add a creeping root variety to these two? Possibly even better.
With red clover, we are combining varieties that have better spring growth with varieties that have more fall growth. By merging diverse productivity curves, we can have more consistent legume content and higher annual yields.
In cool-season grasses, the main goal is to combine tetraploid and diploid varieties. Some companies have been doing this for years in some of their popular branded blends. I have also been trying to combine varieties with other characteristics, such as drought tolerance, wet tolerance and upright versus lower profile.
So, how do we make a real-world application with this information? Should we move away from diverse species mixes and go entirely toward diverse monocultures?
I am not ready to do that. There is real value in planting legumes and grasses together.
However, there must be some thought put into the mix composition. Too many farmers and seed companies are going into the warehouse and grabbing one of everything. Diversity for the sake of diversity will not accomplish the goal — it can actually hurt profitability.
A good first step is to simplify mixes. Instead of 10 to 20 species, maybe do three to five. Let's make sure they complement each other and are easy to manage together.
Then, let's try to get two complementary varieties of each species. Based on what I know today, this approach helps to preserve the synergistic effect of diversity while providing a forage mix that is easier to manage than the multi-species mixes.